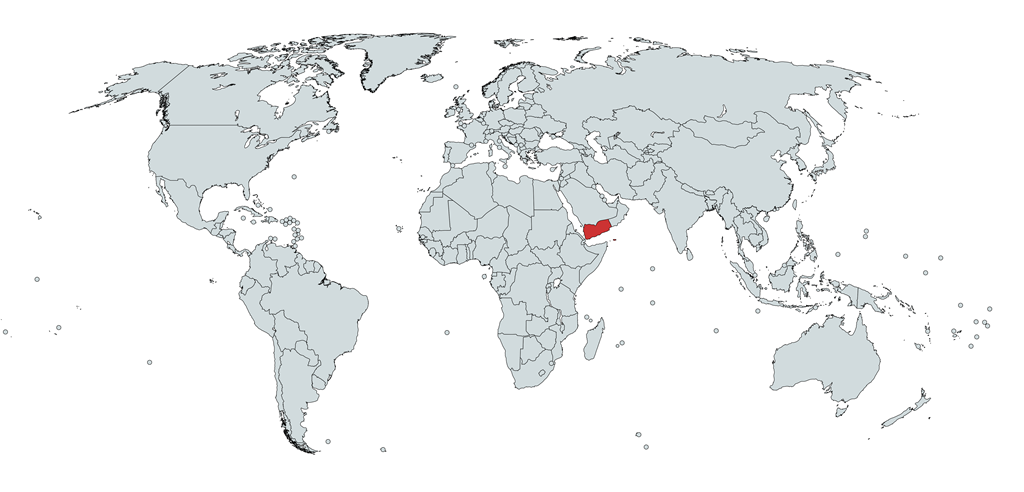 I was made aware of a mysterious disease gripping a family in Da'ira, Socotra, one of their isolated desert villages in the very isolated Island, Socotra. (Because Socotra is such an isolated island, the biodiversity is remarkable: over a third of the local plant species are not found anywhere else in the world). I wanted to visit this family to see if I might be of help, but first I had to get to Socotra.  The only way to reach the island is to fly to Salalah, Oman first and then wait until a small Indian trading boat sailed off from Salalah to Socotra–a rough, uncomfortable voyage that took about 40 hours.  No bathrooms exist.
Toilets are just a small box hanging overboard!  After finally arriving in Socotra, I navigated a 4-wheel-drive vehicle for four hours from Hadiboh (the main city) to the villages east of Da'ira.
When I finally arrived, I met the father.  He told me (with help from an English translator) that there were 7 girls in the family.  Four of them were healthy, but three of
them had a mysterious disease that caused their teeth to fall out within two to three years of development.  The skin on their hands and feet were peeling and shedding.  At times, it was too painful to walk.  No one could explain to the parents what was happening to their daughters.
The 6-year-old's primary (baby) teeth were missing, but she had her 4 adult upper and lower incisors and first molars. At this age, a normally healthy child has 16-20 primary teeth. The parents explained that she had all her primary teeth at one time, but they all ended up falling out within a short period of time.
The 10-year-old daughter was missing her adult molar, which likely came in when she was about 6 years old.  She still had her 2 lower incisors, but they were very loose and likely to fall out soon.  Her adult lower canines were present.  Her upper incisors were mobile (loose)  and her laterals and canines were still erupting along with her second premolars.
The 18 year old's teeth had been missing all of her teeth for many years, with the exception of her lower right second molar and upper left second molar.
I informed the family that the girls had Papillon Lefevre Syndrome, an exceptionally rare  autosomal recessive genetic disorder caused by a deficiency in cathepsin C and often linked to related descendants–which was likely due to the small population and extreme isolation of Socotra and the desert villages of Da'ira.   Unfortunately, there is not a cure.  The best solution is to extract all the teeth and construct a denture.  At the International Scientific Conference in Syria, I met an oral surgeon from Tunisia who had a patient with Papillon Lefevre Syndrome.  He had tried doing implants for the patients, but the implants failed twice.  In order to find solutions and then publish our findings about these rare cases, I am currently communicating with Dr. Saad Alkaddoomi, a doctor from Socotra Island, Anika Abramova, a Russian teacher living in Socotra Island, Socotra Dream Tours, a tourist company that helps provide transportation and translators, Dr. Neel Bhattacharyya the program director of at the University of Florida College of Dentistry's Oral & Maxillofacial Pathology and several others. Our goal is to provide this Yemen family–as well as any others who are suffering– with the best treatment possible.